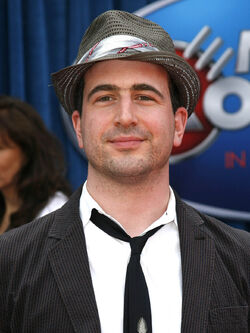 Ethan Sandler (born December 3, 1972) is an American actor known for his role of ADA Jeffrey Brandau on the television series Crossing Jordan and also the producer and writer of Man with a Plan.
Sandler's screen credits include The Chocolate War, Flushed, and The Enigma with a Stigma. He can be heard in Disney's 2007 computer-animated film Meet the Robinsons as DOR-15 (Doris), Uncle Fritz, Aunt Petunia, Uncle Dimitri, Uncle Spike, Cousin Laszlo, CEO of InventCo. From 2002 to 2007 he was in Crossing Jordan as ADA Jeffrey Brandau.
Community content is available under
CC-BY-SA
unless otherwise noted.